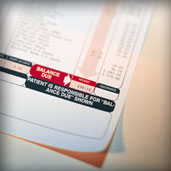 The Department of Insurance, formerly known as the Division of Insurance, protects Illinois citizens on insurance transactions and monitors the professional conduct of insurance companies and insurance providers licensed in Illinois.

At Zimmerman Law Offices, P.C., our attorneys represent insurance companies and brokers making sure their policy forms are compliant with the Department of Insurance's laws and regulations.

Do you need help negotiating or drafting a broker agreement? Are you being investigated for charges regarding an escrow account or your commission? You need an experienced Chicago insurance license lawyer. Contact us by e-mail or call 1-877-440-0020 to schedule a free initial consultation.
Strong Experience in the Department of Insurance
Since 1996, our law firm's founding attorney Thomas Zimmerman has represented Illinois insurance professionals statewide with all aspects of professional regulation and licensing. He also represents individuals selling insurance in Illinois regarding the Department of Insurance's continuing education requirements.
Licenses are issued to producers, limited insurance representatives, public adjusters, premium finance companies and third-party administrators. An experienced attorney, Mr. Zimmerman has defended insurance professionals in complicated investigations that could lead to regulatory action if violations are discovered. He has represented many insurance professionals, including:
Insurance agents
Insurance agencies
Insurance producers
Limited insurance representatives
Premium finance companies
Public adjusters
Third-party administrators
Mr. Zimmerman has extensive experience negotiating and drafting broker agreements for insurance professionals in Chicago.
Contact the Law Office Today
Zimmerman Law Offices can assist you with internal audits as well as any other matters in relation to the Department of Insurance. Attorney Zimmerman also has a strong background representing consumers with allegations of insurance fraud.
Contact us by e-mail or call 1-877-440-0020 to schedule a free initial consultation.
Insurance Agency Accused of Converting Premium Trust Money – An insurance agency was accused by the Illinois Department of Insurance (DOI) of using its insured's premium payments to pay the agency's overhead instead of remitting the money to the insurance carrier to pay premiums for the insured's insurance policies. We successfully demonstrated to the IDFPR that a former partner of the agency had embezzled hundreds of thousands of dollars (for which he went to prison), and that the agency was not at fault for the temporary misuse of funds. No insurance policies were canceled and the agency eventually repaid the money. The IDFPR dropped the case with no disciplinary action taken against the agency's license.